Professor Lucia Nagib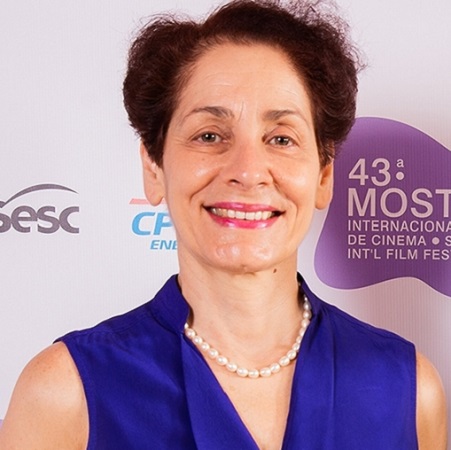 Areas of interest
Nagib is an internationally recognised specialist in world cinema, cinematic realism and cinematic intermediality, which she has explored through a novel approach in many publications, including her single-authored books, Realist Cinema as World Cinema: Non-cinema, Intermedial Passages, Total Cinema (Amsterdam University Press, 2020) and World Cinema and the Ethics of Realism (Bloomsbury, 2011). She is an expert in a number of national cinemas, such as Brazilian, Japanese and German cinemas.
She has taught in academia on film theory, history and practice for nearly three decades and given lectures and keynotes speeches around the world. She has been at the forefront of major research projects in Brazil and the UK, such as the AHRC-FAPESP funded project 'Towards an Intermedial History of Brazilian Cinema: Exploring Intermediality as a Historiographic Method' (short title: 'IntermIdia'), from October 2015 to July 2019, which has produced over a 120 publications. Within the remit of the IntermIdia project, she has written and co-directed (with Samuel Paiva) the award-winning feature-length documentary film, Passages (UK, 2019).She has organised dozens of conferences, symposia and workshops.
Nagib is the author of 7 monographs, the editor of 10 books and the translator of 5 books. She has published over 100 peer-reviewed articles and book chapters. Her writings have appeared in a number of languages other than English, including Portuguese, Spanish, German, French, Chinese and Japanese.
Postgraduate supervision
She welcomes postdoctoral researchers and postgraduate students in all areas of world cinema theory, history and geography. She is particularly interested in projects concerned with cinematic realism; intermediality; new waves and new cinemas; and national cinemas such as Brazilian, Japanese and German cinemas. She has a growing interest in practice as research.
Teaching
Nagib has taught at the State University of Campinas (Brazil), the University of São Paulo (Brazil), the Catholic University of São Paulo (Brazil), the University of Leeds (UK) and since 2013 at the University of Reading. She is currently Honorary Professor of Film at the University of Nottingham in Ningbo, China. Her research-led teaching has encompassed film theory, film history, cinematic realism, cinematic authorship, film and intermediality, Brazilian Cinema, German Cinema, Japanese Cinema, film programming and film festivals, and filmmaking, on UG, PGT and PGR levels.
Current Teaching:
World Cinema: Creative Peaks

Film Programming and Film Festivals

Dissertation and practical project supervision (BA and MA).
Academic qualifications
LLB University of São Paulo
MA in Film Studies (thesis on Werner Herzog), University of São Paulo
PhD in Film Studies (thesis on Nagisa Oshima), University of São Paulo.
Awards and honours
2022 to 2025 – Honorary Professor of Film, University of Nottingham in Ningbo, China.
2021 – Best Edited Collection Prize from AIM (the Portuguese Association of Moving Image Researchers) for the Dossier 'Brazilian Cinema in the Neoliberal Era', edited by me, Ramayana Lira de Souza and Alessandra Soares Brandão, published in the open-access journal Aniki, vol. 5, issue 2.
2020 – Best International Documentary Prize at the Los Angeles Brazilian Film Festival, for the feature-length documentary film Passages (2019), written by me and directed by me and Samuel Paiva
2008 – Distinguished Visitor, University of Alberta, Dept of English and Film Studies, Edmonton, Canada
2003-2004 – Leverhulme Trust Visiting Professorship in the School of History of Art, Film and Visual Media, Birkbeck, University of London, on invitation from Prof Laura Mulvey, to conduct research on 'Utopia in Brazilian Cinema' (12 months)
2000 – Ministry of Culture Research Fellowship at the Centre for Brazilian Studies, University of Oxford (3 months)
Professional bodies/affiliations
Co-editor (with Julian Ross), World Cinema Series, Bloomsbury (London/New York)

Co-editor (with Tiago de Luca), Film Thinks Series, Bloomsbury (London/New York)

Member of the AHRC Peer-Review College

International Expert of the

Portuguese Agency for the Assessment and Accreditation of Higher Education, A3ES

Member of the advisory board of the Centre for Cinematic Intermediality and Visual Culture, Sapientia Hungarian University, Cluj Napoca, Romania

Member of the advisory board of the ERC-funded project 'Screen Worlds: Decolonising Film and Screen Studies' (SOAS, London)

Member of the advisory board of BAFTSS: British Association of Film, Television and Screen Studies

Member of the advisory board of AIM (Associação de Investigadores da Imagem em Movimento), Portugal

Member of the advisory board of the series 'Remapping World Cinema', Routledge (London)

Member of the editorial advisory board of Screen Studies, Bloomsbury

Member of the advisory board of journal La cifra impar (Argentina)
Member of the advisory board of journal

Aniki (Portugal)

Member of the advisory board of journal

Screen (UK)

Member of the advisory board of journal

Open Screens (UK)

Member of the advisory board of journal

Transnational Cinemas (UK)

Member of the advisory board of journal New Cinemas

–

Journal of Contemporary Film (UK)

Member of the advisory board of the series 'Brazilian Studies', Peter Lang (Bern, Switzerland)

Member of the advisory board of the Series 'Issues in National Cinemas', Bloomsbury (London/New York)

Member of European Network for Cinema and Media Studies (NECS)

Member of Society for Cinema and Media Studies (SCMS)

Member of Association of British and Irish Lusitanists (ABIL)