Professor Dorothee Richter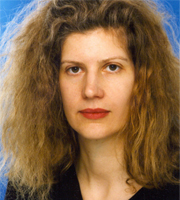 Director of the PhD in Practice in Curating programme
Areas of interest
At the moment Dorothee is directing the OnCurating project space. Dorothee is also the publisher of OnCurating, an online and print magazine on curatorial practice and theory.
Since 2005, she has been head of the Postgraduate Programme in Curating (MAS/CAS), at the University of the Arts Zurich (ZHdK).
She also founded the "Research Platform for Curating, Practice-Based Doctoral Programme". This is a collaboration between the Postgraduate Programme in Curating and the Department of Fine Arts, University of Reading, now the "PhD in practice in curating", which is funded by "Swissuniversities".
She also holds a professorship at the University of Reading, UK.
Background
From 1999 to the end of 2003, Dorothee was artistic director of the Künstlerhaus Bremen, where she curated a discursive programme based on:
feminist issues
urban situations
power relation issues
institutional critique.
She has worked as a curator ever since.
Her own PhD dealt with Fluxus, "Fluxus: Art - Synonymous with Life? Myths about Authorship, Production, Gender and Community". In 2013, she released a film together with Ronald Kolb: Flux Us Now! Fluxus explored with a camera, which was screened for the first time at the Staatsgalerie Stuttgart in April 2013, at the Migros Museum in Zurich, and different European art academies and museums. Learn more on the Flux Us Now website.
Since 1998, Dorothee has held lecturing posts at:
the University of Bremen
the Merzakademie Stuttgart
the École des Beaux Arts in Geneva
the University of Lüneburg alongside the travelling Exhibition/Archive "Curating Degree Zero Archive".
In September 2013, she was appointed as mentor for POOL, (Collection of Hoffmann and Ringier) Zurich. In 2014, the Cultural Department of the city of Zurich appointed her as the curator/ programmer of Gasthaus zum Baeren/Museum Baerengasse, where she ran a programme together with young curators under the title "Curate Your Context".
As a collaborative project with the Centre of Art and Media (ZKM) Karlsruhe, Dorothee Richter and Ronald Kolb are working on a video archive of interviews with contemporary curators. The working title is "CURATING – explored with a camera. A digital archive on Curatorial practice". The project has 70 detailed video interviews with internationally acclaimed curators, such as Peter Weibel, Hans Ulrich Obrist, Stella Rollig, Rein Wolfs, Beatrix Ruf, and Daniel Baumann and curatorial groups, working between an activist, curatorial and political sphere.
Selected publications
Some of her curatorial projects include:
New Social Sculptures at Kunstmuseum Thun, 2012
Speculative Curating, Performative Interventions, Migros Museum, Zürich, 2016/17.
She has co-curated numerous symposia, including:
"Re-Visions of the Display" with Jennifer Johns, Sigrid Schade, Migros Museum in Zurich, 2009
"Institution as Medium. Curating as Institutional Critique?" with Rein Wolfs, 2010
The symposium "Who is Afraid of the Public?" at the Institute of Contemporary Arts (ICA) London with Elke Krasny, Silvia Simoncelli and the University of Reading, 2013
The symposium with the Manifesta Journal and the Institute of Contemporary Art of the University of the Arts Zurich (ZHdK) "Third, fourth and fifth spaces: Curatorial practices in new public and social (digital) spaces" at the Migros Museum, 2013.
One of her 90 publications is her PhD titled, Fluxus. Kunst gleich Leben? Mythen um Autorschaft, Produktion, Geschlecht und Gemeinschaft. Her internet platform OnCurating is also new, and presents current approaches to critical curatorial practice, with 32 Issues of OnCurating, both in print and online including:
Issue 29, Curating in Feminist Thought, published with feminist curators united
Issue 30, Work, Migration, Memes and Personal Geopolitics, published as a parallel event of Manifesta Zurich.