Oscar Garcia Garcia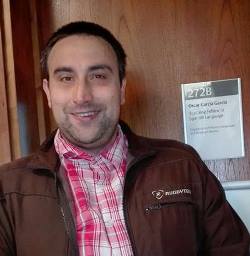 Departmental TELL Co-ordinator
Departmental Student Engagement Officer working with Course Reps and organising Student-Staff meetings.
Office
Miller 122
Building location
Miller building
Areas of interest
Sociolinguistics and pragmatics
Translation (English into Spanish)
Usage of ICT in blended and distance learning
Spanish (writing) for specific purposes
Skills-based language teaching and materials design
Comparative grammar
Teaching
I convene and teach SP1L2/SP2L2 (Intermediate Spanish) and SP3L6/SP3L6C (Advanced Spanish III).
I also teach Advanced Spanish I.
Academic qualifications
B.A. in English Studies (Valladolid)
PGCE – Universidad de Valladolid (Spain)
M.A. in Teaching Spanish as a Foreign Language (Alcalá de Henares)