Kazumi Hiramatsu-Kidd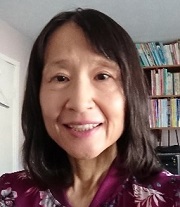 IWLP Exams Officer
IWLP Japanese Stage 2, Module Convenor
Areas of interest
My particular interest lies in the development of materials for students from diverse linguistic and cultural backgrounds.
My teaching and learning scholarship interests include Independent learning. My M.Ed. dissertation was
"Out-of-class Use of Networked Communication by Learners of Japanese in Higher Education: Students' Perspective and Language Learning Strategies" : https://www.jstor.org/stable/30198047 (page 404)
Teaching
I teach on the IWLP Japanese programme Stage 1-2.
Background
I have worked in Higher Education for over 25 years.
Before joining the University of Reading in 2001, I taught Japanese at the University of Oxford (B.A. in Japanese), at the University of Essex (M.A in Japanese), and at the Osaka University of Foreign Studies (International Education & Exchange)
I was teaching English at Setsunan University in Japan, before I came to the U.K. to study Applied Linguistics on Rotary International Scholarship.
Academic qualifications
M.A.: University of Illinois (USA), Applied Linguistics
M.Ed.: University of Sheffield, e-learning
B.A.: University of Kobe (Japan), English Literature & Linguistics
Professional bodies/affiliations
I am a member of AULC (Association of University Language Centres) and UKALTA (UK Association for Language Testing and Assessment).