Dr Camila Gonzalez Ortiz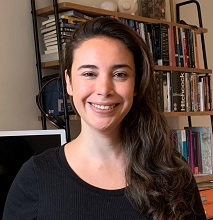 Office
Miller 110
Building location
Miller building
Areas of interest
My areas of interest lie at the intersection between performance, theatre studies, history and politics (understanding politics as the relations of power within a specific place), with a particular focus on the Latin American theatre practices from 20th and 21st centuries, related to each country's historical and socio-political contexts.
My interests also include theatre translation. I am a founding member of the London-based translation collective Out of the Wings (OOTW), which specialises in the translation to English and promotion of drama and performance from the Spanish-speaking world in the UK.
Within the context of OOTW, I have worked in the translation to English of Tu amarás (You Shall Love) by Chilean playwright Pablo Manzi, and the translation into Spanish of Caryl Churchill's Escaped Alone (Royal Court, 2016) and Chris Thorpe's Victory Condition (Royal Court, 2017) both funded by the British Council Chile and presented as rehearsed readings in Santiago during the Encuentro de Dramaturgia Europea Contemporánea in 2018 and 2019.
Currently, I'm working on the Spanish translation of the play Opheliamachine by Magda Romanska (Bloomsbury late 2023)

Research Interests
My doctoral thesis, titled Theatre, Performance and Politics in Contemporary Chile: The Citizens' Turn, examines theatre and performance repertoires between 2006-2016 in Chile and their symbiotic relationship with the rise of national and transnational social movements such as 2011 the Students' Movement and #NiUnaMenos.
My current research project "Is not 30 pesos, is 30 years: Contesting Neoliberalism in Contemporary Chilean Artistic Practices" funded by the Chilean Arts Council, examines how street art and performance-as-protests in contemporary Chile constitutes themselves as practices of cultural citizenship by either sustaining, expanding or challenging conflicts of power in the current Neoliberal Chile.
In this project, I am particularly keen in analysing both artistic productions devised in response to the social uprising taking place in the country since October 18th (18-O), and the work that this, still ongoing, social revolution has the potential to trigger in the next couple of years (2020-2022).
Teaching
I co-teach two first year modules:
SP1I1: 'Icons of Spain and Latin America'.
SP1SLAC: 'Introduction to Spanish and Latin American Culture'.
I convene and teach a second-year module:
SP2CR: 'Culture & Revolution in Latin America'.
I also contribute to the Spanish language classes.
I convene and teach the final-year module
SP3MDR: Memory, Dictatorship and Cultural Resistance in the Southern Cone.
Academic qualifications
Fellow of the Higher Education Academy
PhD in Spanish and Latin American Cultural Studies (King's College London)
MA in Performance Making (Goldsmiths)
Licenciatura en Artes (Pontificia Universidad Católica de Chile)