Anna Jackman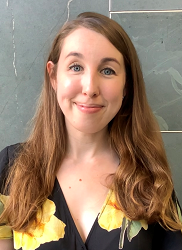 Undergraduate teaching: Contemporary issues in Human Geography (GV1CIG); Techniques in Geography and Environmental Science (GV1TGE); Research training for Geography and Environmental Science (GV2RTS)
GES Director of Postgraduate Research Students (Human Geography)
Areas of interest
Drone geographies
Political geographies of technology and territory
Feminist geopolitics
Geographies of volume, verticality, and airspace
Research centres and groups
Background
Anna is a feminist political geographer interested in technological visibilities, volumes, relations and futures. Anna's current work approaches these issues through the lens of the drone, exploring the unmanning of everyday, urban and military life in drone age.
Anna's recent work has brought into dialogue feminist geopolitics and drone scholarship to develop the idea of 'everyday droning' as a honing and homing of military technology and drone capitalism.
Elsewhere, Anna has reflected on the ways in which both small military drones are normalised and naturalised at the tradeshow, and the (potential) implications of the advent of commercial drones on urban skylines and lives. More widely, Anna is interested in feminist understandings of territory and the methodological challenges raised by the 'volumetric' turn in and beyond human geography.
Anna is currently developing work in three areas: the diversification of drone stories, the unmanning of the urban, and changing warfighting agencies.
Anna is on the editorial board for the journal Digital War and on the editorial advisory board for the journal Defense & Security Analysis.
Anna was appointed as the Specialist Adviser to the House of Commons Science and Technology Committee 2019 Inquiry into 'Commercial and recreational drone use in the UK' and acted as an expert witness for the Defence Committee's Inquiry into the 'Domestic threat of drones'. Anna has shared her research in presentations in Westminster (on rogue drones) and to the United Nations Institute for Disarmament Research (on drones and counter-drone technology).
Alongside building her academic publication profile, Anna continues to write accessible online pieces, including reflections on evolving drone threats, domestic drone futures, the Gatwick drone incident, and stopping rogue drones.
You can connect with Anna on Twitter at @ahjackman.
Academic qualifications
Anna holds a Fellowship from Advance HE.
Anna completed her PhD at the University of Exeter in 2017. Anna's PhD, entitled 'Unmanned geographies: Drone visions and visions of the drone', explored the propagation of drones in particular military and emergency service contexts. The thesis adopted a dual interest in the ways in which the drone frames 'target' bodies and topographies, and the ways in which it is framed by particular trade and advocacy communities.