Professor Richard Bradley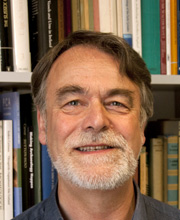 Areas of interest
Prehistoric landscapes
Rock art
Ritual and social organisation
Field archaeology.
Background
Professor Richard Bradley has written a number of books on prehistoric archaeology. His fieldwork has centred on prehistoric settlements, landscapes and monuments in England, Scotland, Spain and Scandinavia. These include studies of Cranborne Chase, the Neolithic axe quarries of Great Langdale (Cumbria), the stone circles of north-east Scotland, the Clava Cairns of northern Scotland, the megalithic art of Orkney, the prehistoric land boundaries of Salisbury Plain, and the Copper Age cave sanctuary of El Pedroso (northern Spain). He has conducted other field investigations of megalithic tombs in the west of Sweden, and a study of the siting of Bronze Age metalwork hoards in southern England, and has also investigated prehistoric rock art in Britain, Spain, Portugal, Sweden and Norway.
Recent projects include a book on approaches to studying prehistoric art, another on ritual and domestic life in prehistoric Europe, and accounts of both the prehistory of Britain and Ireland and the role of circular architecture in the ancient world. Field projects published in the last three years include an investigation of henge monuments in Aberdeenshire and Caithness, excavation around prehistoric rock carvings on the National Trust of Scotland's Ben Lawers estate, and a study of the Bronze Age ship settings on the Baltic island of Gotland. Together with three colleagues he is writing a new account of the Continental background to British and Irish Prehistory. The latter project is funded by the Leverhulme Trust and conducted jointly with Leicester University.
Richard's most recent fieldwork is concerned with three stone circles in Scotland: Croftmoraig, Waulkmill and Hillhead (all documents are PDF).
Academic qualifications
MA (Oxford) Fil. Dr h.c. (Lund).
Professional bodies/affiliations
Member of the Institute of Field Archaeologists
Fellow of the Society of Antiquaries
Fellow of the British Academy.