Katja Strohfeldt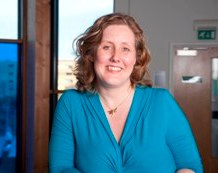 Teaching and Learning Dean (2017 - )
Member of the British Pharmacopeia Commission Expert Advisory Group (20112 -)
Principal Fellow Higher Education Academy (2020 - )
University Teaching Fellow (2011 - )

Areas of interest
Metal-based Anti-cancer Drugs
This aspect of my research is based on the synthesis, analysis and biological testing of metal-based anti-cancer drugs. The search for effective anti-cancer drugs is still a very important task in modern research, especially in chemistry, as a result of the wide variety of tumor types and problems of toxicity associated with conventional cancer therapies. Metals of interest for incorporation within organometallic anti-cancer agents are germanium and titanium. The advantage of organogermanium compounds is that they combine cytotoxic activity with a stimulation of the immune system with almost no detectable sign of toxicity. Research in the area of titanium-based complexes as potential anti-cancer drugs showed impressive results over the last 5 years and we believe there is still scope for further improvements. The idea of this research area is to devise and evaluate new organic and organometallic synthetic routes to allow access to biologically interesting anti-cancer agents.
Traditional Chinese Medicine (TCM) Quality Assessment
Traditional Chinese Medicine refers to a range of medical concepts developed in China and based of tradition more than 2000 years ago. It includes herbal medicine, acupuncture, massage and exercise.
Unfortunately, there are some herbal TCM products on the UK market that may be of questionable quality, which may impose a risk to the public. These products may be adulterated with toxic or illegal ingredients or simply produced to a low standard. It may be very difficult to distinguish between those products posing a health risk to the public and herbal TCM products made to an acceptable quality standard.
Currently we are working in collaboration with the MHRA in order to develop analytical standards to identify TCM herbs of acceptable quality. Within the same project we are developing Monographs for the British Pharmacopeia to ensure quality standards being introduced in the commercial market.
Problem-based learning (PBL)
Problem-based learning (PBL) is a student-centered teaching approach, which uses real-life case studies to teach students complex and multifaceted concepts. The targets of PBL include helping students to develop problem-solving skills, self-directed learning, working in teams and continuous professional development.
We are working on developing teaching concepts for a variety of teaching scenarios reaching from Therapeutics lectures and workshops to practical classes in Medicinal Chemistry.
Large class size teaching in diverse student cohorts
This project investigates the student experience in large classes especially in cohorts with a diverse composition. We are looking at identifying good practice and barriers to successful engagement between the student and the lecturer.
We are working on developing a suite of teaching material, which will help to overcome barriers to effective learning in large class sizes and equip lecturers with ideas and tools to deliver an engaging course.
If you are interested in one of the projects or aspects of them, please do not hesitate to contact me.
Academic qualifications
BSc/PGCE (Wuerzburg); Phd (Wuerzburg); PGCAP (Reading)
Professional bodies/affiliations
Member of the Royal Society of Chemistry (MRSC)
Senior Fellow of the Higher Education Academy (SFHEA)