Chiara Cirillo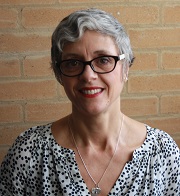 As Programme Director, I am responsible for the strategic development and the management of the Institution-Wide Language Programme, which provides language modules to around 1000 students (undergraduates, postgraduates and staff) across the University. In this role I contribute to the Global Engagement Strategy within the wider School of Literature and Languages and University context, as well as taking overall responsibility for the curriculum provision and the quality management and enhancement of the Programme.
Base Programme:
Institution-Wide Language Programme
Active Projects:
Currently I am researching intercultural competence with the purpose of supporting the alignment of the IWLP curriculum to the University's Curriculum Framework. I also facilitate staff development workshops within the within the Programme and for the wider University. As part of my commitment to staff development I am involved with the University's FLAIR scheme, accredited by the Higher Education Academy (HEA).
Bio:
My research background is in sociolinguistics, with particular focus on issues of gender. Over my twenty-year career in Higher Education, I have taught Italian language and culture in a variety of settings and to a variety of students, from Modern Languages undergraduates to adult learners and more recently within an IWLP context. Over the past ten years I developed an interest in tertiary education pedagogies, for languages and more broadly. My areas of interest are assessment and feedback, intercultural competence and teacher development.
I have a PhD in Italian Studies from the University of Reading University of Reading and a BA equivalent in Humanities (Laurea in Lettere Moderne) from the University of Pavia (Italy). I am currently undertaking part-time an MA in Education, here at Reading. I am Senior Fellow of the Higher Education Academy and an Executive Committee member of the Association of the University Language Communities (AULC) with special responsibilities for staff development. I am also a member of the UK Association for Language Testing and Assessment (UKALTA). Currently I serve as External Examiner for Regent's University, London and University College Dublin.
Conferences Attended:
Developing quality assessment of foreign languages in Higher Education: reality, challenges, ambitions', paper (co-authored), UKALTA Language Testing Forum 2017, University of Huddersfield, 24-26 November 2017.
'Representation of cultural diversity in Italian language textbooks', Round Table panel member, 'Training Day for Italian teachers', Modern Language Centre, King's College London, 30 June 2017.
'AULC Professional Development SIG: Visioning', facilitating group discussion. 18th AULC Conference, Queen's University, Belfast, 12-13 January 2017.
Qualifications:
University of Reading, PhD Italian Studies
University of Pavia (Italy), Laurea in Lettere Moderne.