Perception and Action
We study how sensory information is used for controlling action, both in health and in disease. We use state-of-the-art facilities for 2D and 3D displays using visual, auditory, and tactile stimuli, virtual reality, movement capture, movement analysis, and electrophysiological recordings. These facilities allow us to present stimuli, record movements, and to manipulate stimuli in response to changes in the observer's movements. This enables us to investigate complex real-world behaviours, such as driving, walking, reaching and grasping objects, and looking at works of art.

A common theme among researchers in the group is the study of sensory processing in relation to programming of action in health and disease. A particular common interest, which will be pursued in future collaborations within and outside the group, concerns neural representations that remain stable across eye and head movements and across different modalities (visual and auditory).
---
Our research team - Our recent publications
Academic staff
David Field
Lecturer.
Office: 1S20; Tel: 5004; Email:
d.t.field@reading.ac.uk
David Field uses fMRI to study the neural basis of the visual control of action. He has demonstrated that the superior parietal lobule (SPL) has a specific role in controlling locomotion direction whenever this is achieved using the visual directions of objects in the scene rather than optic flow. He has also shown how areas of the brain that are traditionally labelled as 'motor' are involved in visual processing related to collision control. His research has been supported by EPSRC and ESRC, and is currently funded via an international collaboration with Hong Kong University.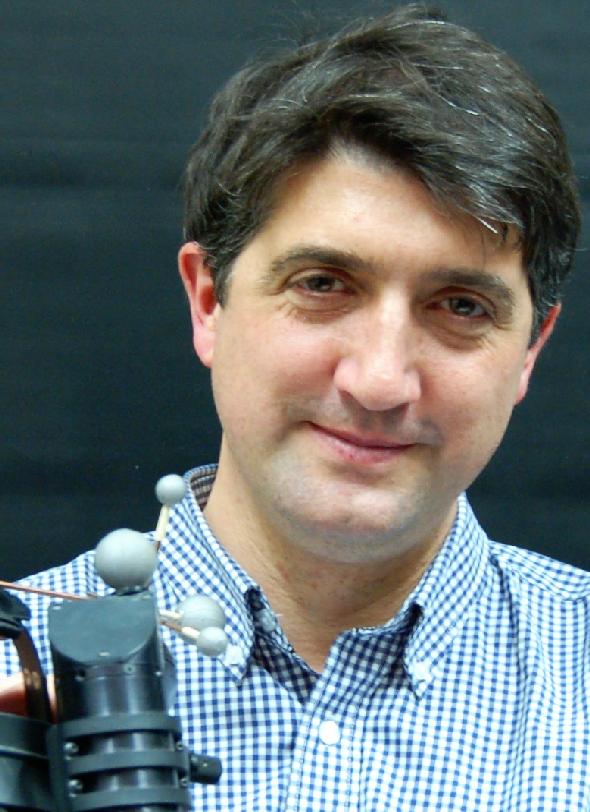 Andrew Glennerster
Reader.
Office: 1S22; Tel: 5554; Email:
a.glennerster@reading.ac.uk
Andrew Glennerster studies the brain mechanisms underlying 3D vision, particularly in moving observers. His research has been funded by charities, industry and research councils including the MRC, Royal Society, Wellcome Trust, Microsoft Research and EPSRC. He has set up one of the most advanced Virtual Reality labs in the world to study 3D vision using precisely calibrated, high fideilty head mounted displays and seeks to develop novel computational models of spatial representation in moving observers.
John Harris
Professor Emeritus.
Tel: 8522; Email:
j.p.harris@reading.ac.uk
John Harris's group, supported by the EPSRC and Parkinson's Disease Society, has shown that patients with Parkinson's disease make errors in space perception, related to the most affected side, affecting patients' judgments of apertures such as doorways. They have also investigated the effects on patients' gait (in collaboration with a biomedical engineering and neurology colleagues at Surrey and Reading).
Aileen Ho
Associate Professor.
Office: 1S12; Tel: 5550; Email:
a.k.ho@reading.ac.uk
Aileen Ho is a registered clinical psychologist and experimental psychologist who leads the Clinical and Experimental Neuropsychology Group. Her work encompasses ageing and clinical research, particularly in neurological conditions like Parkinson's, dementia, and Huntington's disease. Key interests are understanding cognitive, behavioural and speech impairment; loss of everyday function, and impact on quality of life; as well as developing useful behavioural interventions. Aileen is funded by ESRC, Parkinson's UK, HiQ Foundation, and the European Huntington's Disease Network.
Nicholas Holmes
Lecturer.
Office: 1S18; Tel: 5543; Email:
n.p.holmes@reading.ac.uk
Nicholas Holmes' research focuses on the hand, particularly on somatosensory perception and the multisensory control of reaching and grasping movements in healthy adults and children, and in children with motor coordination difficulties. The
Hand Laboratory's
latest research is funded by the
Medical Research Council
, and the ESRC. We also study imitation, bodily illusions, multisensory integration, and self-recognition.
Anna Horwood
Principal Research Fellow.
Office: 149; Tel: 5553; Email:
a.m.horwood@reading.ac.uk
Anna Horwood works in the field of visual accommodation,convergence and typical and atypical binocular vision. As a professional orthoptist she is an expert on clinical binocular vision difficulties so she can advise and collaborate with anyone in the School who uses visual stimuli for their research. She works part time at the Royal Berks Hospital so has strong links with the NHS and experience of NHS research issues.
Eugene McSorley
Senior Lecturer.
Office: 1S16; Tel: 5552; Email:
e.mcsorley@reading.ac.uk
Eugene McSorley examines the processes which lead to the selection of what to look at next by directly examining the way people move their eyes when they look around their visual world. This behaviour reflects the impact of vision (Glennerster; Field) and Haptics (Holmes), decision-making and reward (McCloy; Chakrabarti), neuroeconomics (McCloy), memory (Beaman), emotions (van Reekham and Johnstone) and aesthetics.
Patricia Riddell
Professor.
Office: 159; Tel: 6699; Email:
p.m.riddell@reading.ac.uk
Patricia Riddell, with Dr Anna Horwood and Sonia Toor, investigates the development of binocular vision. They study the differences in the use of cues to depth (retinal disparity, blur and size change) both across development, and in clinical populations. This research can help both to increase the specificity of diagnosis of visual difficulties, and lead to changes in intervention.
Tim Salomons
Lecturer.
Office: 1S13; Tel: 8524; Email:
t.v.salomons@reading.ac.uk
Tim Salomons is interested in how the brain mediates the transition from innocuous to painful levels of somatosensory input.